20 Jun

Trey Flood

It was May 1, 2022, when 14-year-old Trey Flood arrived at The Meadows in Brighton, Michigan, for the first Major League Wiffle Ball (MLW) series of his young career. This came shortly after the league's draft, where Flood was taken 6th overall by the Downtown Diamondbacks. Little did he know the impact MLW would soon have on his life.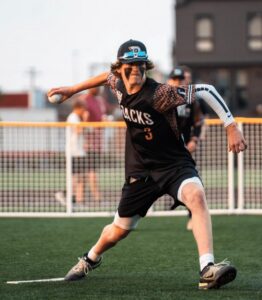 Flood was diagnosed with Type 1 Diabetes (T1D) at just four years old. "I've had an up-and-down journey with Type 1 diabetes, from shoveling down fruit snacks mid-game to having to miss sleepovers with friends, so my parents would know I'd be safe," Flood said. Fortunately for Flood and all those battling T1D, there have been many new developments in the fight against the disease. "After years of what seemed like I missed out on so much, I am finally able to do things that I may have struggled with before," Flood said.
Even with the new technology to fight Type 1, Flood still stressed that everyone battling the disease needs to stay smart, use the technology available, and don't be afraid. "Take care of yourself, love yourself, and be patient when it comes to dealing with the ups and downs of the disease."
During Flood's rookie year in MLW, he was met with a unique opportunity. MLW and SLAMT1D, an organization that raises awareness for Type 1, paired to host an MLW series in Vermont at mini replicas of the Field of Dreams, Wrigley Field, and Fenway Park. This event would support those fighting Type 1.
The Diamondbacks and Flood were granted the opportunity to play in the series. "I was beyond pumped," Flood said. "Not only would this be my first time leaving Michigan for MLW to play at probably the most prestigious wiffle ball field in the country in front of one million fans on the YouTube page, but more importantly, it would be a quality way to spread awareness for Type 1."
Flood got the chance to pitch in Little Fenway, but the chance to spread awareness about Type 1 was what made him more excited. "Being able to spread awareness to Type 1 through the SLAMT1D organization has really meant a lot to me," Flood said. "I've embraced my disease, and now I feel very comfortable sharing any information about it."
That being said, MLW and SLAMT1D are working together again this summer. On August 11 and 12, MLW will host its 2nd annual series at the mini fields in Essex, Vermont, alongside SLAMT1D's 12th Annual Vermont Summer Classic tournament. Both events should once again be incredible ways to raise awareness for the disease that has plagued many, just like Trey Flood.