13 Oct

The O'Days-Two Sibs Share Their Perspectives

ETHAN: 

I was in Eighth Grade when our family first found out that Carly was diagnosed with Type 1 Diabetes (T1D). It was a scary time filled with confusion, fear and uncertainty.  Carly had been feeling sick all week with what we thought was the flu, but after a trip to the doctors we found that her blood sugar had reached a level that required immediate medical attention to save her life. Me, my older brother Hayden, and Carly's twin Amelia were left at home getting information through phone calls from our parents at the hospital. All of us were so confused and had little knowledge of what T1D even was at the time.  We soon found out that Type 1 Diabetes (T1D) is a life-threatening chronic disease that Carly would have to live with for the rest of her life.  After Carly and our parents came home from the hospital we started to learn what T1D was and what it meant for our family moving forward.  It has been just over 12 years since Carly was diagnosed with T1D and I hope I can pass on some advice to any families and siblings going through the same thing we have.  As I began brainstorming for this article, there were three main takeaways I've learned growing up having a sibling with T1D: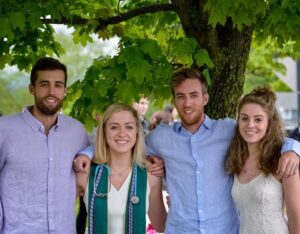 As I mentioned before, I had very little knowledge of T1D and how it truly affects one's life. We were fortunate to have parents that did a lot of research and spoke to different doctors and specialists to take care of Carly in the best way possible. They explained to my siblings and I that essentially Carly's pancreas had stopped working and she would have to regulate her blood sugar levels through a medicine called insulin. The scariest thing to hear was that Carly's blood sugar was so high when she first was diagnosed that she was in critical condition needing immediate medical attention to save her life. Carly's dependence on insulin is crucial to ensure her blood sugars are in control, to prevent her from reaching this critical state again. This was extremely shocking and overwhelming for all of us all to hear but it was essential we knew how important it was to take care of her.  As Carly  learned how to constantly manage her disease over the years, I became more educated by asking her questions and researching myself.  To this day I am still learning how Carly's management of her disease is progressing and changing, whether its her telling me her A1C or her transitioning into using a dexcom G6 continuous glucose monitor (CGM). As I became more aware of what Carly has to do a daily basis to stay alive I grew an appreciation for the perseverance one develops when constantly facing challenges with this disease. I have watched Carly overcome obstacles in attempting to manage her disease but also advocate for herself- especially in regards to gaining access to insulin and diabetes supplies that are essential for her to live. 
Be Supportive: 
When Carly was first diagnosed it was important for all of us as a family to make sure she knew we had her back.  We all learned what to do in case of an emergency where Carly's blood sugar was too high or too low and to also understand the emotional rollercoaster associated with it all.  As a family we realized that Carly now had a full time job managing her disease and had daily responsibilities just to stay alive; there were no days off or vacations from this disease. She was dealing with waking up in the middle of the night to test, constantly pricking her fingers and taking shots, and learning how to incorporate T1D in her life so she could live the life she wanted to.  My other two siblings and I knew that we had to be selfless during this time as all the attention had to be on Carly to learn how to deal with this disease.  We were lucky enough to have family friends drive to our sporting events and other extra curricular activities while our parents were busy caring for Carly and getting her the best care. 
When you have a family member with T1D, you can't help but always worry and check in. As Carly has gotten older I think she has become a professional at managing her T1D. I've learned to worry less and find a balance of not being too overprotective as we've grown up. It has been awesome to see Carly fearlessly manage her disease as she fulfilled her accomplishments of finishing nursing school, and becoming an ICU nurse in the Medical Intensive Care Unit at the University of Vermont Medical Center. 
Become Engaged in the T1D Community
Carly attended the University of Vermont with me. She founded the first UVM chapter of the College Diabetes Network.  She later became connected with SLAMT1D after starting this chapter and has gotten our whole family involved in participating in the wiffle ball, corn hole, and basketball tournaments hosted by this nonprofit organization. Talking with other families who have been affected through T1D has been extremely rewarding for me, as I am able to relate and discuss similar situations. Helping fundraise and create awareness and education for families and young kids going through the same thing Carly and our family went through is something I have now become passionate about. The impact SLAMT1D has made for me and within the diabetes community by spreading awareness and connecting the T1D community has been amazing. I can't wait to play in this year's 9th Annual Vermont Summer Classic WIFFLE Ball Tournament and see my little sister smiling, laughing and letting loose a little bit from the responsibilities of managing her T1D.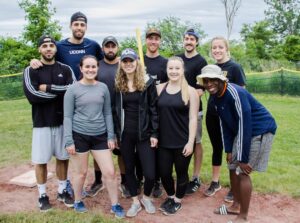 CARLY: 
Living with Type 1 Diabetes (T1D) has given me a unique perspective as a young adult, friend, sister, and daughter. At the age of 11 I was told I would live with this life-threatening, chronic disease for the rest of my life. This news was overwhelming, and truthfully is still overwhelming for me. As I processed this concept in my head I couldn't help feel frustrated and defeated. My life would now consist of finger pricks, insulin injections, blood glucose monitoring, carb counting… and I would soon to find out hour long phone calls with health insurance companies, and diabetes supply companies to advocate for myself on gaining access to crucial diabetes supplies.  Over the years living with T1D I have learned the importance of developing a healthy relationship with my T1D. There are days where I almost forget I have T1D, where everything goes smoothly but in contrary there are days where I am defeated and exhausted. Type 1 diabetes is a challenge that I have to rise to each and every day.  I have grown to learn that this chronic illness is relentless, as you can be doing everything right with your management and things can still not go in your favor. I am learning to accept this. Patience, respect, trust, control, and teamwork are all essential in developing a healthy relationship with T1D. By no means is this something to master- I am still learning.  
Knowing how demanding this disease is on my own life triggers one of my greatest fears: being a burden to those around me. I am 23 years old, and just recently graduated from UVM with my BSN. I'm starting my nursing career in the Medical Intensive Care Unit. This is a time in my  life where I want to thrive in my independence. I have tried to handle life with T1D all on my own and learned the hard way how important it is to have a support system. The inevitability of living with a chronic disease as hard as T1D is to manage often leads to "diabetes burnout." This makes it even more important to have a support system in place around you.  I am extremely thankful for my parents, siblings, and friends who have supported and empowered me while living with this disease, whether I need a juice box or a shoulder to cry on as I continue to incorporate T1D into my life.  My siblings Hayden, Ethan, and my twin sister Amelia are some of those important people within my support system for T1D. Some tips I have for other families/siblings with T1D include: 
T1D is an invisible, chronic, life-threatening disease that can undoubtedly be overwhelming to manage solely on your own. It is a disease that affects the entire family, which is why it's crucial to not only support one another but also empower one another when facing the challenges and obstacles associated with T1D. It can be as simple  as providing a juice box for a low blood sugar, but go as far as all becoming part of the T1D community. I can't explain how amazing it felt to have friends and family come together last summer to participate in SLAM T1D's Annual VT Summer Classic Wiffle ball tournament to support a chronic disease that plays such a monumental role in my own life, as well as so many others. Becoming part of the T1D community is an empowering feeling, and I am proud to be a part of it.  
Empathy comes from a place of understanding and compassion, as pity involves feeling sorry for someone, almost in a condescending way to only augment the struggle one may be facing. I think it is important to acknowledge the challenges associated with T1D, but crucial to construct an empowering approach to support your loved one living with T1D. We don't want your pity, we just want your support as we silently push through taking care of ourselves everyday trying to make it look easy, when its not.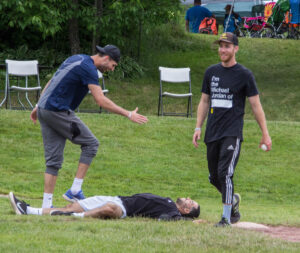 As I have mentioned before I have learned the hard way to encompass patience when attempting to incorporate T1D into my life. As this disease affects the entire family I believe it is something everyone should value. There is so much out of our control when it comes to managing T1D, finding a way to remain calm and patient when it interrupts our lives is vital to long-term health. This is something that is lifelong.  T1D has showed me resilience and adversity I never thought I had, even on my worst day. I am forever grateful for my support system and T1D community that is constantly there for me as I continue to learn to live with T1D.