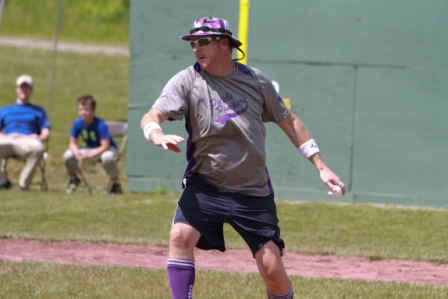 17 Jun

Purple Pumpers Host Cornhole Tournament, Tell Us Shawn Quinn is Key

On June 7 the Purple Pumpers hosted the 1st Annual Purple Pumpers Cornhole Tournament to raise funds for SLAMDiabetes' 5th Annual Vermont Summer Classic.

There were 16 teams registered, at $50 per team, and of course some decided to donate more. The 1st place prize was $100, and the tournament raised $900. The Pumpers plan on more teams next year and will also be giving away a cornhole board set, as well as other donated prizes for 2nd, and 3rd place finishers. Everyone had a great time and the day was a success!

The Pumpers are fully expecting that success to carry over to the Vermont Summer Classic WIFFLE ball tournament, where they've come close in each of the four years they've played.

"We've been in the semifinals and the championship game, but just haven't been able to close them out for a win, " said Nikki Carney, self-appointed team manager. "Our real problem has been our late-inning pitching. Shawn Quinn holds up OK throughout regular play, but his arm really tires in the late innings in the playoffs."

Assistant Manager Samantha Quinn thinks the Pumpers will be OK this year. "Shawn's getting more experienced, and with that experience comes a need for a midday nap and some warm milk. We'll give him some rest and put some ointment on his shoulder…he'll be ready."

Captain Jack Carney agrees. "Yeah, will give him a nap. We just have to make sure it's between games and not in one."

Vegas line maker Vinnie Boombatz has them at 7-2. "They're in the mix. They could go deep, or get shellacked. Dunno. I like their plan: The guy Quinn, he throws a lot of pitches, that guy. Maybe give the guy a nap, a little milk…although I'd go anisette, we'll see."

Ten days from now, we'll see how the Pumpers primary pitcher performs!