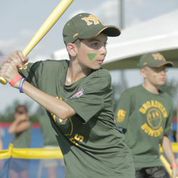 28 Feb

Mikey Pascento Named 2014 SLAMDiabetes Fundraiser of the Year

SLAMT1D, Inc. recently announced that Mikey Pascento, a freshman at New Milford High School in New Milford, CT has been named the 2014 SLAMDiabetes Fundraiser of the Year.

Mikey is a wiry, nonstop fourteen year-old who'd run the Energizer bunny into the ground. He and his team of Broadview Bombers played in a SLAMDiabetes WIFFLE Ball exhibition game at Danbury High School in August 2013. They played three weeks later in the Rhode Island Classic in North Providence. Bomber parents thought it was a wonderful opportunity to teach the kids how doing something they love while learning how to give back, even though the team had no connection to T1D.

That all changed a month later. SLAMT1D, Inc. CEO Jeff Kolok recalls what happened.

"Natalie was out of town and I had our two younger kids at the dentist. I was in the waiting room and I received a call from Mike Pascento, Mikey's dad. I stepped out to take the call: He told me he was in Mikey's pediatrician's office and that Mikey was just diagnosed with Type 1 diabetes. I couldn't believe it. Mike said they loved what we were doing before Mikey's diagnosis, but now they had a personal reason to play wiffle ball and fundraise."

Mikey and his Broadview Bombers made it to last year's Championship game in CT and traveled again to Rhode Island. Mikey was the top fundraiser for the CT tournament ($3,256), the first 20/20 Club member for CT (20 donors of $20 or more) and also raised $1,600 for the Rhode Island Classic. His total in CT was the highest amount raised by a player in 2014, and the total for the two tournaments would've been even higher if Mikey could've coaxed the family into another wiffle ball trip: "I really wanted to go to the Sam Fuld Tampa Classic, but we decided to hit CT and RI hard, and try to get to Tampa this year. SLAMDiabetes tournaments are awesome. Some day I want to play in every one."

Mikey's a big New York Yankees fan and goes to games with his dad. Mikey, his sister Maggie and parents Mike and Betsy live in New Milford, CT.

We're proud to have Mikey and his entire family a part of SLAMDiabetes and look forward to seeing everyone in CT soon!

Congratulations, Mikey!