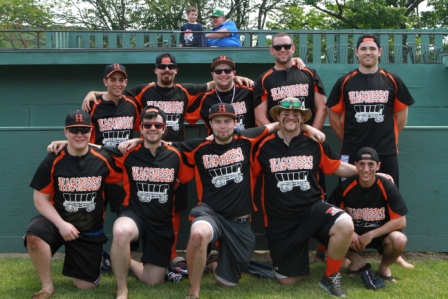 18 Jun

Hingham U Wagoneers Near $5K Goal, Want Championship Trophy

The Hingham U Wagoneers are back for their second Vermont Summer Classic. Their high energy, good infield defense and specially-equipped supply wagon should carry them deep into the playoffs.

Fresh off their first-year appearance at the Vermont Summer Classic where they won the best Uniform Award and reached the semifinals, the Hingam U Wagoneers are coming to Burlington, Vermont with even higher expectations this year.

Captain Tom Rogg sums up his team for us:

"Last year, we didn't know what to expect. We were just psyched to get into the tournament. We played hard, made it to the semi's and even shocked the Pumpers by joining them with the Best Uniform Award.

This year, we've amped up. We'll pass our goal of $5,000 and we're gonna be tough to beat on the field. We've been focusing on hitting this off-season. The Steins are gonna be beasts at the plate, Kevin "Sweet Rosie" Rosenberg will be clutch and "It's All About" Benjamin Lincoln…no, it really is.

Johnny Ripple's in charge of the wagon, so he'll make sure we're well hydrated and have plenty of eye black and band-aids. Fiascone's been raising funds, but he's got to get in the cage some more before the tournament, we need him to bring the boom.

We can't wait, it's the highlight of our year…we booked our plane tickets the week after last year's tournament."

Las Vegas lines put the Wagoneers at 5-1, 4-2 and Vinnie Boombatz even has them at 3-1 to capture the 5th Annual's trophy this year. "Rogg's put together a complete team. Great energy. I think the two Shamrocks Murphy and Boyle are gonna bring some of that emerald luck with them. They got a shot, these guys."

Click here to check out the Wagoneers GoPro video from last year!