10 Aug

Grady Cram

It was a Friday in early October of 2013.  Tryouts for our town's AA hockey team were over and I was scanning the roster for the players who made the team.  My name wasn't there. The tryout should've gone very well, but it didn't.  I had no energy, no hustle and couldn't skate hard.  I was having trouble seeing so shooting and passing didn't go very well either.  I couldn't understand what had happened.  The previous two seasons, I'd played with some of Vermont's top hockey players.  But you wouldn't know that from watching the tryout.  I had no explanation why I didn't play like I thought I could.  

On Monday morning, October 7th, the explanation came.   We arrived at the Emergency Room at ten in the morning for a blood test.  By noon, I'd been diagnosed with Type 1 diabetes and was already in intensive care.  For a twelve-year old, a lot of information was given over the next three days; most of which sounded like a foreign language to me. With my parents, we were taught about Type 1 diabetes, counting carbs, giving injections, testing my blood sugar, what to do when my blood sugar got too high and what to do if it got too low.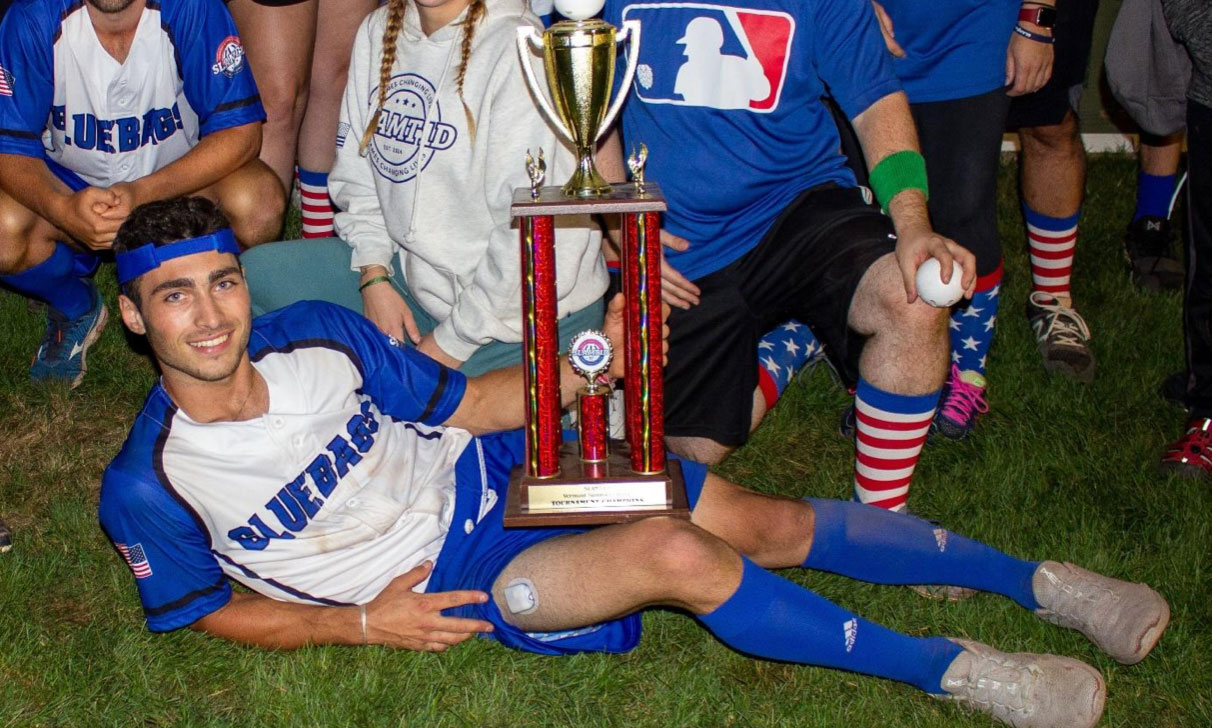 After a 72-hour whirlwind of treatment and training, I was released from the hospital and sent home with my parents.  My dad said he was more nervous bringing me home from the hospital that day than when I was a baby.  That night, I watched football practice from the sidelines.  We chatted with my teammate, fellow T1Der, Jack Carney and his family about their experiences.  Saturday morning, Jack and I led our team onto the field and were on the kick-off team to start the game.  I was back to sports, and from the outside life appeared to be normal again.  But it wasn't really.
T1D is a constant struggle. For a newly diagnosed teenager, my search for independence went in the wrong direction.  I didn't want to have to grow up early this way.   It was a pain having to keep track of my needles, insulin and pumps. Making sure I had enough supplies at my dad's and my mom's house was a challenge and a headache I didn't want to deal with. I didn't like testing before every meal and having to make insulin adjustments because it made me feel different from everyone else.  Having my parents on top of me when I wasn't doing the things I was supposed to be doing didn't help either. I'd forget to bring food with me to use when I was low.   When I did remember, friends would want to share it because they were hungry too.  Waiting for my blood sugar to go back up in the middle of a hockey game felt like an eternity.  I was frustrated and angry when a pump failed just hours after I'd put it on.  I just wanted to be like everyone else.  But when I didn't manage my sugar, my body felt lousy and reality set in that I wasn't.
I'm 21 now and I know there is a light at the end of the tunnel.  Things got easier over time.  Routines were established. Monitoring and treatment became a part of life.  Technology has improved. Most importantly I've grown to accept the fact that it's not going to just go away. I've taken on the responsibility of making sure that I manage my health hour to hour every day. Between school, jobs, vacations, dating and sports, life from the outside looks as regular for me as anyone else.  The only difference is that T1D is always present.  It's the only thing I can't take a day off from.  
Many of my friends don't really know what it's like to have T1D.  SLAMT1D has been very important in building a supportive community for myself, other T1Ders, and their families.  Every year, I really look forward to the Vermont Summer Classic because it's like a big family reunion.  The friends I've made through the tournament help me feel that I'm not alone.  It's a weekend with lots of camaraderie along with the opportunity to give and receive support.  It's a great weekend to throw some strikes, compare notes on T1D and life, to be a mentor for young kids with T1D and continue helping raise T1D awareness.
Today, I think about that tryout and the much younger me.  I was confused and it seemed like the worst day of my life. Times have changed. I'm grateful for the opportunities ahead of me. Taking control of my Type 1 diabetes means I get to make the most out of everything in life. It opened a door for me to take control of my life and live it to the fullest.
View All Stories