25 Jul

Anthony "Three Fingas" Abundanzo Sets Betting Line in SLAMT1D's 12th Annual Vermont Summer Classic
Abundanzo reveals street scoop, sets the line on this year's teams
Brooklyn, NY – July somethin' 2023
I gotta tell yuz, I'm gonna get a lotta action on this here tournament. 22 teams, and next year goin' to 28? Fuggedabouddit. A lotta play, a lotta play. And what do we got this year? Teams comin' in from Boston, Michigan and Oregon thinkin' they're gonna do somethin' against some of them veteran teams. Are these guys for real or what? Lemme put down this sangwitch and tell yuz what's what.  Here's what I got:
AWAA: No line…they're not even playin' in this thing. But I'm tellin' you now, right here. I'm layin' 3-1 for next year. Jimmy Cole is gonna have his crew hungry after havin' to bail because seven of 'em got invited to some wedding. Madon, they're gonna be chompin'!
Bat Attitudes: Another one on the lamb! This one's got a wedding, that one's havin' a baby! What's goin' on over here?! Then them Wifflahs put the big grab on that free agent pair, and it's all over. Word is they're plannin' a big comeback. Yeah, and I bake the best gagootz in Bensonhurst. Ah, C'mon! 20-1. All day. Fuggedabouddit.
Court Sessions Ballers: They're from Oregon. Yeah, so. My aunt's from Astoria. What am I gonna do? They play basketball. Those are big orange balls they don't gotta hit. Little white ones comin' at 'em at forty, fifty on the gun? No shot. Another venti-plus. Ah, I'll go 20-1, takin' all day.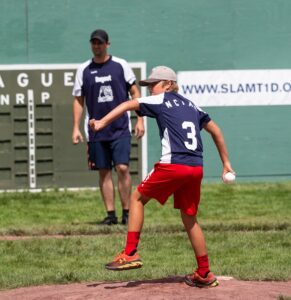 Dugout Dawgs: Look, they gotta win a game this year! They're due. And the stars, these stars are lined up with them new divisions. My insider's tellin' me the guy Knowles, he's gotta turn over management to Kendall. She'd kill it! They get their first W in this thing. How's that? 20-1. Madon, I'm stuck on takin' 20-1, but that's that, whaddya gonna do?
Dell Ave Devils: This cast of characters, Madon! Like my bettin' buddy Gaetan says, "Hi tell you me!" Every one of 'em's a Murphy, or suckered into bein' with 'em. Hyde Park, Boston. Nineteen or forty on the roster. Numbahs, you kiddin' me? Every one of 'em wants to be captain: even the kid in diapers! My goombah sends me this video. The pitcher's got two of them frozen shoulders, looks like he's rollin' bocce, outfielders arguin' over hittin' relays, and hittin'? Fuggedabouddit. They looked like they're swingin' at pinatas or bugs! And the guy who thinks he's their best player? He's holdin' out in Florida 'til he gets a contract and an airline ticket. That said, I'm likin' this team here, if they play the young ones, they could go kinda deep, ya know what I'm sayin'? That maiden Fiore, she don't take no crap from anybody. She'll have 'em hoppin'. I'm goin' in big on this one here, even at 5-1 just because, but takin' 10-1 they don't get their guy outta his hammock in Florida!
Dunder Wifflin: Now we're talkin'. New team, but they got a guy, Evangelo, this guy, he's gotta be a paisan. Right off the top I gotta skinny the line. Hearin' they got some real players up in New Hampshire somewhere. The law firm of Karelas and Leahy are lookin' solid, and the schedule, they could run it. Or not. 8-1.
Hallam-ICS: The guy Abair's at it again. This team's one of them teams you never know. They could surprise. Beat them Red, White & Brew in the playoffs last year. Huge! Unbelievable! They play too nice, they like everyone, this team. 10-1.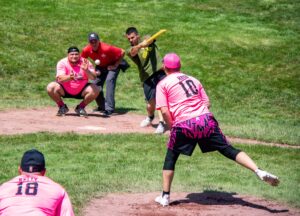 Electric City Heartbreak Kids: Madon! You see these uniforms? You ain't gonna miss 'em out there! Girgenti, Gadani, Zullo. Nice! I'm leanin' good with this team. What? They get to the semi's last year? Solid, they got some tough games. That Friday nightcap with MLW's gonna be a good one. The guy Anthony's got things cookin'. 3-1. This one's a possibility. It ain't a sure thing, but possible. Real possible. I'm thinkin' one of the best bets here.
SB Wiffle: Got another one here! I'm goin' 5-2 like them Electric City outta Albany! Sixteen players they got, with a few Nablidons…Fontana, Cafiero and Fragola! This team, they come in waves this team. These waves could wear out some of them older veteran teams. Like what the Chandler guy's doin'. They got a shot.
Novo Nordisk-Da Bulls: Yeah, I like 'em. Dahhh Bulls! Ternisky's runnin' the show over there again this year. They got like four hundred of them lotto tickets they're selling. This crew knows where the action's at! Veteran team, they keep tellin' everybody they win with smahts. It ain't with Adams' hittin' I'll tell yuz that right now. Phil Esposito's cousin comin' back? This guy Darcy, he's gotta be like the only Raider fan in the whole state of Vermont, but he's not wearin' any of the spiked helmets, face paint and all that. What's up with that? Gotta go 12-1, takin' all day.
Farrell Distributing: New team. Not much on 'em. Heard they're bringin' in players from all over the state of Vermont, so they gotta be serious. They distribute a lotta suds, so they got a deep network, big fan base. Bessery's the manager and then there's the guy Roberge. Rumors at the local golf club are all over the map. One day he's gonna pitch, another he's playin' first, then he's battin' cleanup.  This, that, the other. Latest is Bessery's got him batting ninth and playing third, but now she's gotta be lookin' for a relay to first! 20-1. Takin' all day!
Mashville Moonshots: Had some of them moon shots in Tennessee once. Madon! Couldn't see for a week! This one here could be trouble. New team, but word is they're comin' in stacked with wiffle players from somewhere. Riley Cote, the manager has high hopes for them Bjornberg guys. Heard Soucy and Hig-ham, Wig-wam or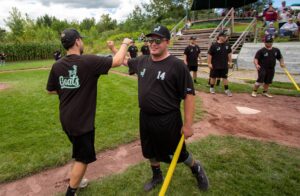 somethin' like that are the real deal. Year One, gotta prove it. I tightened up on this one here, goin' 4-1.
O'Farrell's GOATs: They win the thing a couple times, then they ghost the last two. What's the guy O'Farrell do? He's doin' fashion shows, ordering this hat, that jersey, t-shirts, changin' the whole look. The whole thing, whaddya call, the vibe. They got a massage table set up at their tent, he's doin' recovery shakes between games. I mean, they won with cigars, sausage, peppahs and pitchin'. And the walk-up song they want? "I'm Too Sexy"! Fuggedabouddit. I'm too confused. Still, 5-2 if they get their pitching. 10-1 without it.
Hawkins Bay Yacht Club: Yeah, yacht club. And I got a bridge. Between the guy Hanz and the heir to the Ritz Cracker fortune, they've got the bench and post-tournament party covered. They'll sneak a win or two on account the other teams will be on the ground dyin' of laughter. They got team spirit, no doubt. There's also no doubt, they ain't gettin' anywhere near the championship. 50-1, but I'm layin' just because this team is a side-splittah to watch!
Lions Club Striders: Gillette, he's got this team on the rise, this guy. One of my top sleepers in this thing. The roster reads like a menu: Mustardstain, four Kovals and a Broughton. Yeah, I grabbed a Nathan's dog, four sfogliatelle and a cannolo. Solid shot, 7-2, layin'.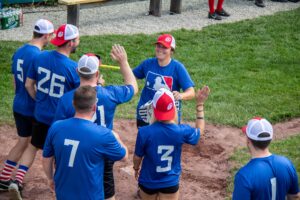 Red, White 'n' Brew: Big upset last year; had them goin' deep. The RWB's are callin' this their Revenge Tour. Rachel Booth, she's given the other one an ultimatum: win the thing or else! DeMarino, Roach and Florence head up a veteran lineup. Heard one of them Poolers has gotta step up or he might be out the door with the other Booth. Big pressure. Can they respond?  I got 'em goin' deep; RB's got too much to lose and he's been itchin' to get back. 5-2, I'm layin'. Look out.
MMU Boys Basketball: Look, my pisan DiGiammarino is back with Leombruno, Medina and a guy Mario with no last name. Now we're talkin'; it's like Prince Spaghetti Day. Always good. Then again, I took 'em goin' away at 4-1 and got cleaned out. Heard Farrell's refocused, doesn't blow dry his hair no more, workin'…no more beach days. Bradeen and Norcross could be difference-makers. Then again, maybe not. Then there's Zev. Fuggedabouddit. The name's enough! Uppin' the line 'em, I say 12-1, takin'.
MMU Girls Basketball: High energy team, this team. They draw a walk in the first inning, they go nuts like they won the whole thing! Word is new addition Thompson's bringin' a ringer in for the pitchin' staff. Talked with the guy Pfaff. Says they're gonna play a one-three-one, with somethin' Izzy at the top. Then they're gonna do a "Head Tap" lookin' for a Bri, go to a "Twenty-five" and then some kinda "DHO" thing; what, for a double play? They got a whole nuther language they talk, this team. AK this, AB that, D over here, Mo over there. And what's a Bella? What, they gonna sing "Sweet Caroline" between innings? Yeah, how'bout yuz just hit the ball, throw the thing, get a few runs and get a W! Gotta love the efforts, but I'm takin' all day, 15-1.
MLW: Major leaguers these guys. Michigan. Them two Schlootz and Coughing really got somethin' goin'. Team's played at the Phillies' joint, Sofi Stadium and what-have-yuz. The guy Knorp's got big action on the ball, but that's at 70mph. What's he gonna do at 40 mph? Trey Flood is a real up-and-comer. Him and Knorp can knock the holes right outta them wiffle balls. The big thing: I gotta see 'em play with the bright lights on 'em at Little Fenway. They're gonna be tough; expecting big things from them two stars they got. I'm layin', 3-1.
Team JCaT: Second year team. Last year they got a taste, now they're goin' at this thing hard. The captain there, this Dorman guy, he purged the lineup. Kept "Nantastic" Campbell for her solid stick. Everybody else? Fuggedabouddit. Done. G'night. Bridget Dorman, team prez, she made it clear. They gotta put up some W's or else this guy won't be allowed back in his own joint. They got moxie; a guy up there says they got great wings, but, what? No stromboli? I'm goin' 8-1, layin'.
Team Underscore: They changed their name from Team TBD to Team Underscore. Or Question Mark. Are yuz serious? Well, they got a paisan, Rizzi. They say they're gonna win this thing, but I don't think they got a clue. Layin' 20-1.
Weekend Wifflers: Pion once again thinks he's got a competitive team. Whaddya kiddin' me? He did that deal for them free agents Rahaim/Jones, but Rahaim says he "hasn't swung a bat in a year". He's on the DL. Good one. The kid Cayden's the real deal. He can do it all. They got a whole slew of Chevaliers and Pion's lookin' to add a few more Quebecois to the roster. Fuggedabouddit. Won't matter. Go boil some moose nose and grab a Labatt! 10-1, takin'.
Plastic Pokers: All due respect; but, you gotta wonder about a team with Gumby as the mascot. Ain't he the Playdo dude who keeps gettin' mashed by boulders and trucks? Corey's got 'em bringin' good energy, and they got numbers. Jipster Nadley's gonna carry the load for this crew. 18-1, takin'.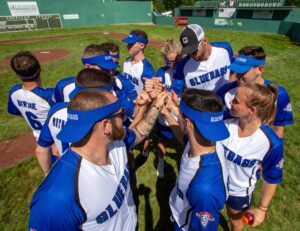 The Gluebags: Dunno. Just dunno. They're the real deal, or a fugazzi? Freddy Molak's ghostin' again. This guy show for anything? They picked up a couple players, Wheels Wheeler and Sampson. The guy Griff Noel's back, and that Birdie Springer and Cram can be lockdown pitchers or meatball tossers. Morse, the code guy, he's gotta be a hitter this year, and there's rumblin' about Monsey and Spear bein' put on probation if they don't produce. The two, Bones and Carly O'Day, anchors but can they hit? A lotta hittin' questions I'm thinkin'. Although, the guy with the hair, Savoir Faire, he can hit. Two finals in a row; can they get to three and win this thing? 3-1, layin'.