31 Jan

12th Annual Vermont Summer Classic Tournament Update

Check out these three updates for this year's Vermont Summer Classic!
New Scheduling Format
Two divisions each consisting of twelve teams will provide scheduling pools to add competitive balance and better match-ups during qualifying rounds on Friday and Saturday.
Twenty-four teams will play three qualifying games this year: one game on Friday evening and two games on Saturday. Twelve of the stronger teams will comprise one division, and likewise twelve teams will be matched with others of similar strength in the other division. Teams will play others within their division on Friday and Saturday.
This new format will offer more competitive balance and create fun, lasting rivalries as the field of teams continues to grow. All PowerRanking points for seeding, fundraising, uniforms, Home Run Derby, etc. will remain the same.
Here's a look at the two divisions:
EAST
O'Farrell's GOATS
The Gluebags
Red, White and Brew
AWAA
Weekend Wifflers
Electric City Hitmen
Mashville Moonshots
MLW
Enfield Raiders
Dell Ave Devils
SB Wiffle
Lions Club Striders
WEST
Dugout Dawgs
Hawkins Bay Yacht Club
JCAT Griffins
Plastic Poker
MMU Boys Basketball
MMU Girls Basketball
Farrell Distributing
Court Sessions Ballers
DA Bulls
Hallam-ICS
Dunder Wifflin
Holmeslices
Home Run Derby to Follow Saturday's Opening Ceremonies
The 12th Annual Home Run Derby will return to its familiar midday spot on Saturday, August 12. Last year, we experimented with moving it to the end of the day on Saturday after the last round of games and prior to the Wild Card Lottery. It went well, but we had many requests for the original schedule right after Saturday's Opening Ceremonies. We agree: the crowd will be bigger and with six more contestants from new teams, the HRD will be a fun contest for everyone to watch!
Reigning Champion Grant Cummings of O'Farrell's GOATS will look to fend off a larger field of competitors led by perennial sluggers Jimmy Cole and Grady Cram.
Contestants will represent each of their teams in the Home Run Derby. Selection of the participant will be made at the captains meeting prior to the tournament. Teams will receive bonus points based on the final standings.
Round 1 – Each contestant will have 30 seconds to hit home runs.  A home run is any ball hit out of the ball field or bounces off the top of the wall in fair territory.  10 players with the highest Home Run amount advances to round 2.  If 2 or more players are tied, each will have an additional 30 seconds of pitches to try to advance.
Round 2 – 10 players will have 30 seconds to hit home runs.  The top 4 batters will proceed to the Home Run Derby Championship Round.
Home Run Derby Championship Round – 4 batters will have 30 seconds to hit home runs.  The player with the most home runs will be crowned this year's home run derby champion and will earn bonus PowerRanking points for their teams.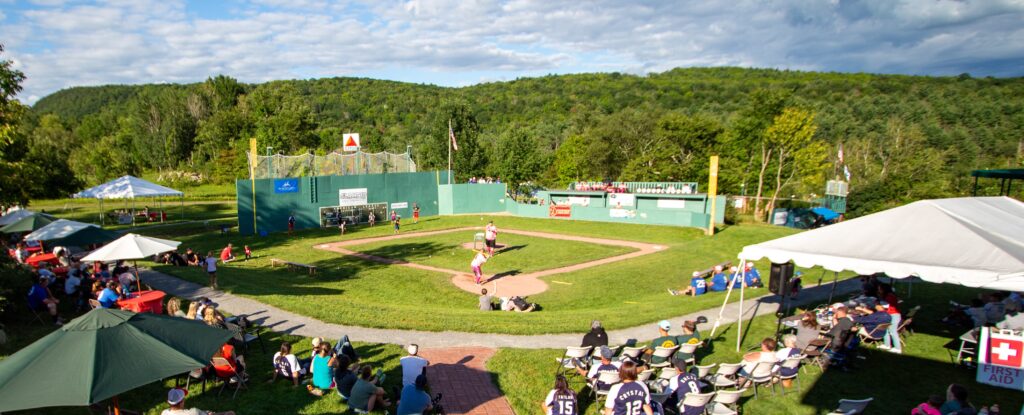 12th Annual Home Run Derby: Saturday, August 12, 2023. 1:00PM at Little Fenway, immediately after Opening Ceremonies and Group Photo.
Grab a chair, a Palmer Lane Maple Creemee or Sparky's BBQ burger and cheer on your favorite Derby slugger!
Welcome New Teams!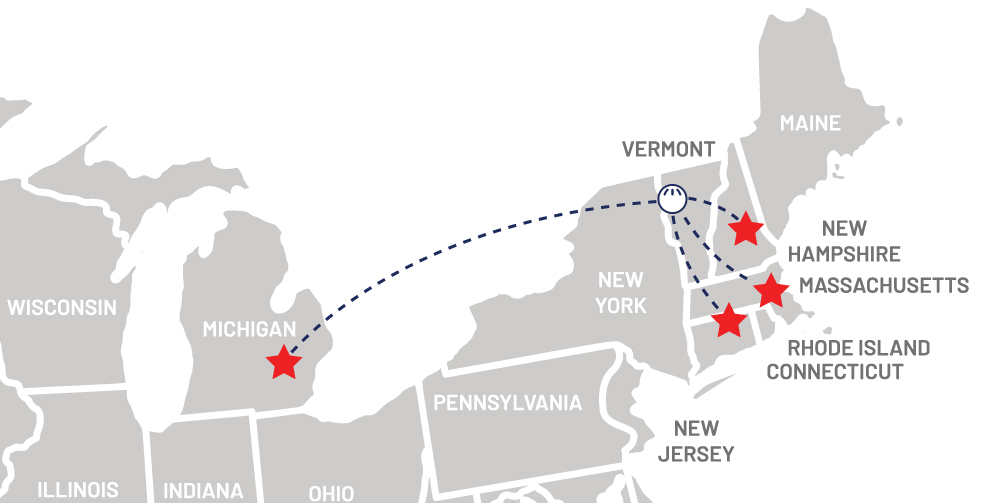 Four new teams have joined the growing field for the 12th Annual Vermont Summer Classic. They hail from Alton Bay, New Hampshire; Boston, Massachusetts; Enfield, Connecticut; and Brighton, Michigan! Welcome to the SLAMT1D family! We look forward to seeing everyone here in Vermont!
Dunder Wifflin': Alton Bay, NH
Dell Ave Devils: Hyde Park, Boston, MA
Enfield Raiders: Enfield, CT
MLW All Stars: Brighton, MI
Learn More Here!